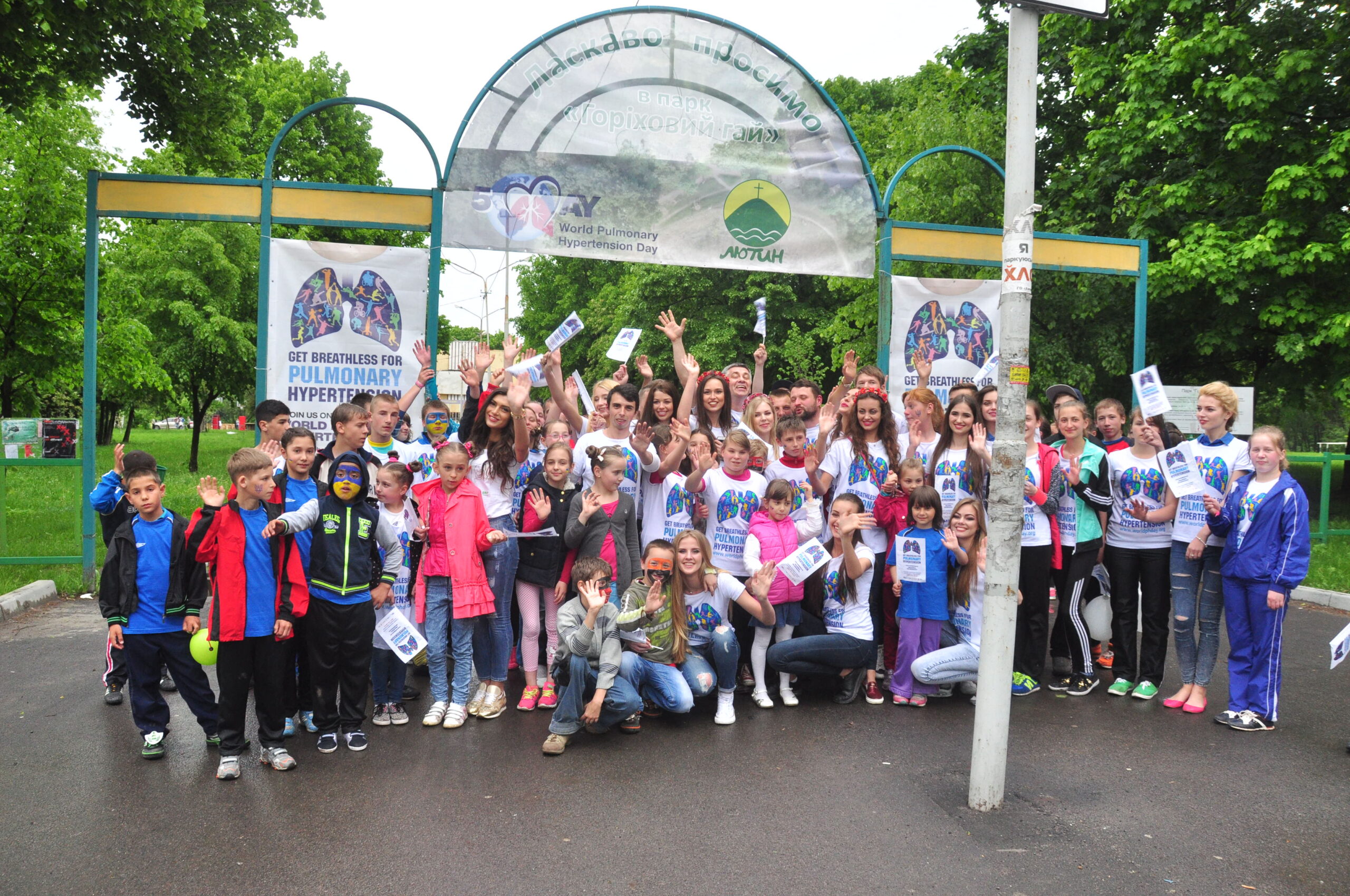 We held activities in the park "Horihovyi Hai". Oksana Kulish, Andrii Porodko, Juan Fuertes, Yuriy Pidlisny (deputy governor of Lviv region), Head of the "Miss Lviv-2016" Contest solemnly opened the 5th World Pulmonary Hypertension Day from the stage. Special guests of the event: an international guest arrived – board member and coordinator of international projects of PHA Europe – Juan Fuertes, deputy chief physician of the Lviv Regional Clinical Hospital – N.R. Van Doeveren, PH specialist – Semeniv H., the only transplant coordinator in Ukraine , an anesthesiologist – I. Pysarenko, social workers from Frankivskyi department.
A symbolic run through the park in support of PH patients "Hold your breath for PH" took place. Participants of the "Miss Lviv" beauty contest also joined the race. Everyone has experienced the shortness of breath that patients with pulmonary hypertension experience every day. This is not just a race, but a call to officials, deputies of all levels not to turn a blind eye to the problem of the disease – pulmonary hypertension, not to remain aloof.
All participants were invited to participate in the "Cork for Life" Campaign, to approach the tent with a large number of pre-assembled plastic corks and sort them by color. The call to action on sorting the plastic caps was very actively received by the participating children, who rushed to the mountain of of these caps with a smile and began to sort through them, while realizing that there are children with PH for whom they are making these afforts. The event did not pass without ACHIEVEMENTS. After all, on the same day, we managed to transfer the collected plastic corks to the recycling company. There turned out to be about 300 kg, for which we received UAH 3,000 in order to purchase some medicines for PH patients.
In the evening, a friendly dinner was waiting for the participants of the WPHD. At the table, Oksana Kulish expressed her gratitude to all the organizers, to the people who were interested in holding the event, which is so important for the wards of the "Sister Dalila" Charitable Foundation. There was an exhibition of drawings "Bring PH to light", where the authors of the illustrations explained in detail and showed how exactly they see this disease. There was a warm atmosphere in the hall. The decoration of the evening was the children who danced, jumped, played non-stop and actively participated in karaoke. The guests sat until late in the evening, no one wanted to leave, because they all had one common topic, one common problem. We are convinced that our meeting on the World Pulmonary Hypertension Day brought warmth, hope and faith to every heart.