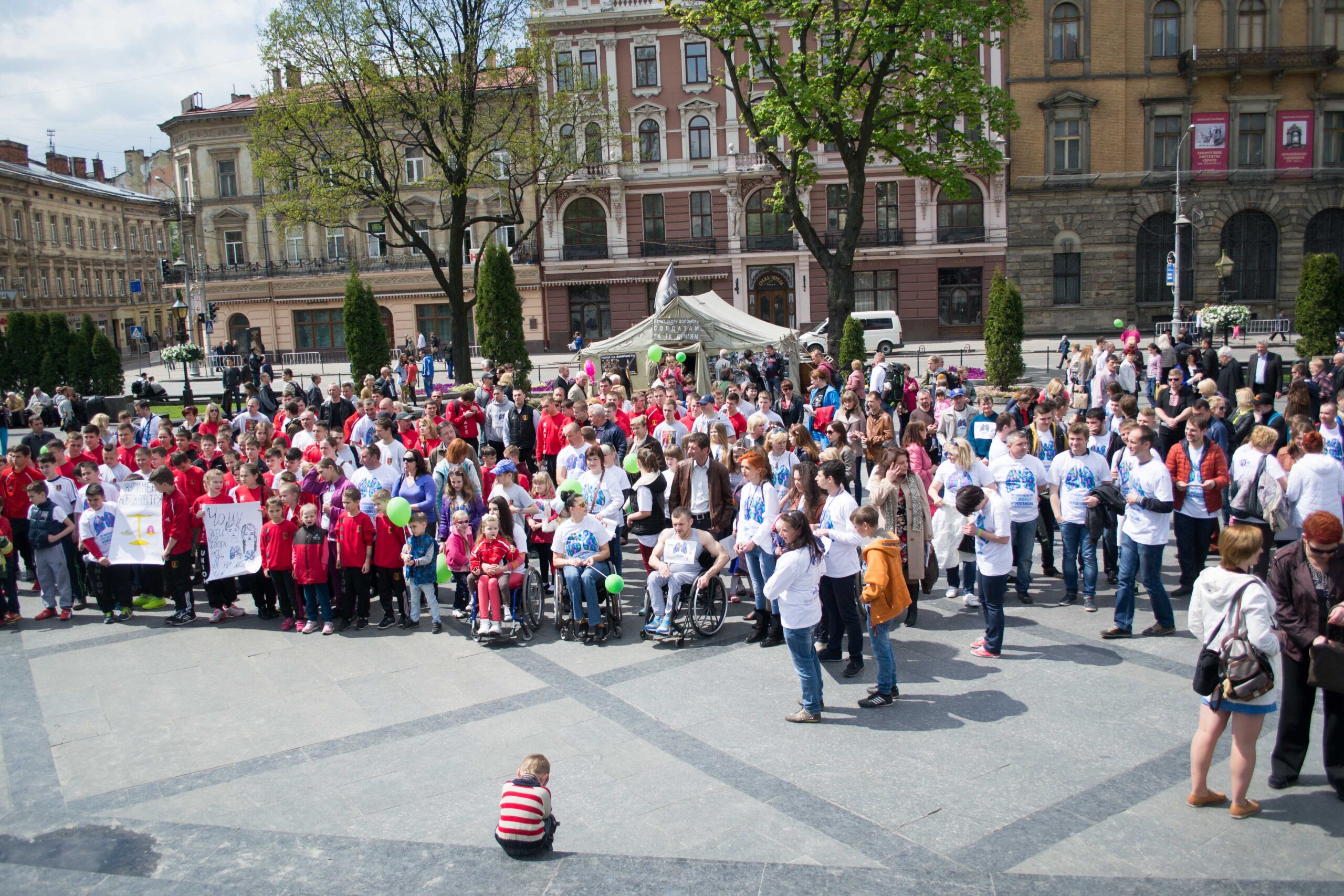 Patients from Lviv, Lviv regiont and Kyiv gathered to celebrate World PH Day. Among them: Victoria Burbura, Khrystyna Makarchuk, Olena Pokotylo, Iryna Sydorchuk, Alina Didusenko, Victoria Folis, Svitlana Malanchak, Artem Matkovskyi, Yulia Kaviy. They all came with their families to take part in the Walkathon "…when the air stays away". These are the people who, due to their health, were able to come to the sports event. They got to know each other with smiles on their faces, since before that they had not seen each other in person, but only communicated on social networks. In all this lively atmosphere, we were preparing for the sport, everyone wore a T-shirt with the symbols of World Pulmonary Hypertension Day.
At 12:00 p.m., the sports event " Walkathon "…when the air stays away"" officially started. The participants walked from the monument to T. Shevchenko to the Opera House and back in support of people suffering from Pulmonary Hypertension. All this took place to the applause of passing by Lviv residents and guests of the city. Returning to the monument to T. Shevchenko, all the participants of the procession, at the call of the leader, held on their breath for a few seconds to feel themselves in the place of a person suffering from pulmonary hypertension. Also, the participants released blue balls into the sky as a symbol that the disease can let go. We understand that this is not an easy task… Therefore, we call on everyone to take joint action.
Our meeting with patients and their family members did not end there, but continued in the cozy "Smakolyk" healthy food cafe. Here, Halyna Dubrivska, a representative of the LCCF "Sister Dalila", gave a presentation about the activities of the LCCF "Sister Dalila"during the year, and each of the PH patients had the opportunity to write about their "Breath of Success". A pleasant surprise happened to Victoria Burbura on this day, she received such a desirable and vital portable nebulizer. Also, all patients who attended the event received medicine. After lunch, our participants visited St. Anna's Church. They had the opportunity to talk with sister Dalila, who lit a ray of hope and faith in hearts that need it so much. The evening summary was at the "Volter" hotel, during which patients exchanged life experiences about PH. All this was accompanied by live music.
We would like to thank the European Association of Pulmonary Hypertension, the Lviv Regional Center for Physical Culture and Sports of the Disabled "Invasport", acting director of the LMCSSSDM – Oksana Rubai, Samopomich Association, Lviv City Council, Children sport school "Halychyna", Children's entertainment complex "Dityacha Planeta", LLC "Market Universal Ltd", PJSC "Ukrtelecom", administration of Hotel "Volter", company "T.B. Fruit Horodok".