Medical practice guidelines are peer reviewed recommendations developed by task forces nominated by Scientific Societies and based on available evidence and expert opinion. An evaluation study revealed that "the acknowledgement of the value of the PH guidelines is uniformly high".1
The European Society of Cardiology and the European Respiratory Society issued their common guidelines in 2015: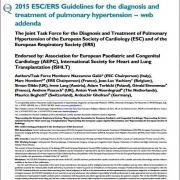 Guidelines are, however, subject to continuous review. The 13 task forces consisting of 124 experts presented their consensus opinions at the 6th World Symposium on Pulmonary Hypertension (WSPH)2 and following WSPH, including the plenary discussions, published 13 manuscripts in the European Respiratory Journal3.
The main points of the manuscripts are highlighted in the clinical preview, however a longer State of the Art in a single chapter is expected end of the year or early 2020.
[1]: http://spo.escardio.org/eslides/view.aspx?eevtid=48&fp=3940
[2]: https://erj.ersjournals.com/content/early/2018/12/05/13993003.02148-2018
[3]:
https://erj.ersjournals.com/content/53/1/1802148
https://erj.ersjournals.com/content/53/1/1801887
https://erj.ersjournals.com/content/53/1/1801899
https://erj.ersjournals.com/content/53/1/1801900
https://erj.ersjournals.com/content/53/1/1801913
https://erj.ersjournals.com/content/53/1/1801904
https://erj.ersjournals.com/content/53/1/1801889
https://erj.ersjournals.com/content/53/1/1801906
https://erj.ersjournals.com/content/53/1/1801908
https://erj.ersjournals.com/content/53/1/1801897
https://erj.ersjournals.com/content/53/1/1801914
https://erj.ersjournals.com/content/53/1/1801915
https://erj.ersjournals.com/content/53/1/1801916
https://erj.ersjournals.com/content/53/1/1801919