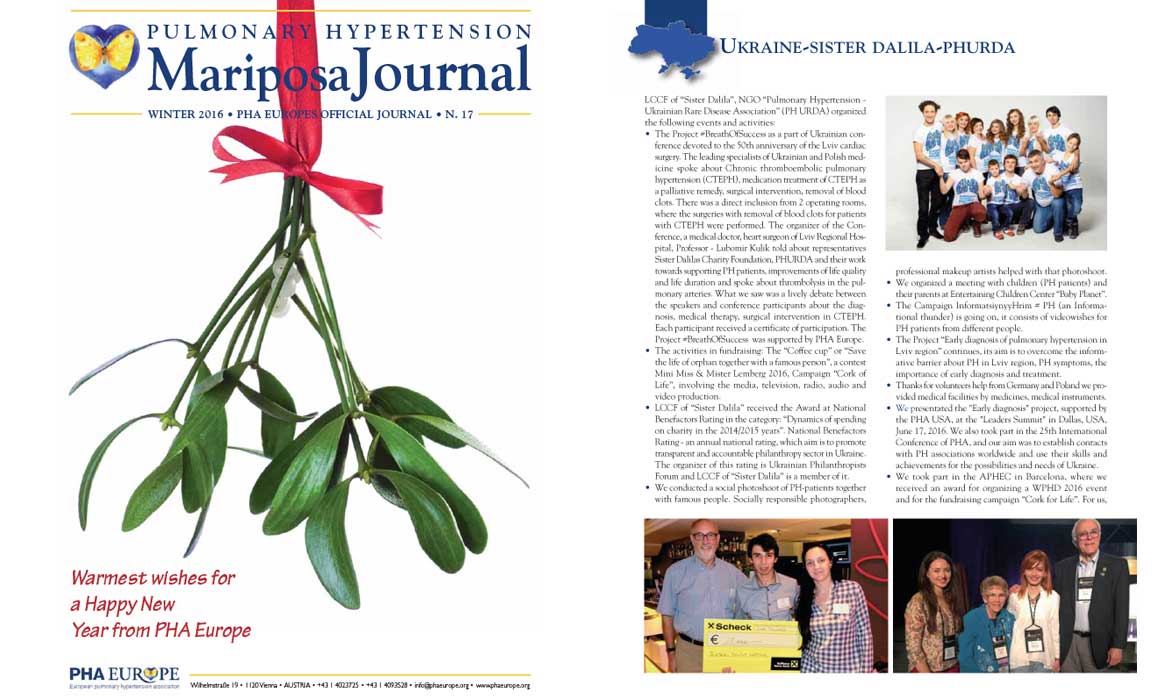 During 2016 LCCF of "Sister Dalila" and NGO "Pulmonary Hypertension Ukrainian Rare Disease Association" (PHURDA) organized the a lot of activities. The most remarkable are the following:
The Project #BreathOfSuccess as a part of Ukrainian conference devoted to the 50th anniversary of the Lviv cardiac surgery. The leading specialists of Ukrainian and Polish medicine spoke about Chronic thromboembolic pulmonary hypertension (CTEPH), medication treatment of CTEPH as a palliative remedy, surgical intervention, removal of blood clots.
The Project "Early diagnosis of pulmonary hypertension in Lviv region" continues and its aim is to overcome the informational barrier about PH in Lviv region, PH symptoms, the importance of early diagnosis and treatment
We conducted a social photoshoot of PH-patients together with famous people.
We also held some activities in fundraising: The "For coffee or Save the life of orphan together with a famous person", a contest Mini Miss & Mister Lemberg 2016, Campaign "Cork of Life", involving the media, television, radio, audio and video production.
LCCF of "Sister Dalila" received the Award at National Benefactors Rating in the category: "Dynamics of spending on charity in the 2014/2015 years".